---
---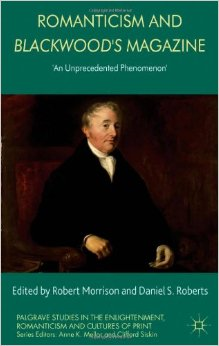 ---
---
ed. with Daniel Sanjiv Roberts; Houndmills: Palgrave, 2013.
---
Reviews
"The essays in Romanticism and Blackwood's Magazine are remarkably consistent in quality, length, and design….Each essay succeeds in making a distinct point about Blackwood's and tying it explicitly or implicitly to the editors' goal of revealing the breadth, depth, and complexity of Maga's conservatism." – Regina Hewitt, Victorians Institute Journal, 42 (2014), 206-16.
---
"Throughout this panoply of essays we are reminded that the inherent strength of Blackwood's abides because it 'bristled always with confidence and contradiction, mobilizing a coruscating wit and explosive irony while calling repeatedly for stability and continuity'. Whereas this internal tension made for riveting reading in the numbers of 'Maga,' so too do the chapters collected here that paint perhaps the most nuanced portrait yet of the formative years of one of Britain's most influential periodicals….This project is ambitious in scope, meticulously researched and edited, thoroughly and accurately indexed, and critically important to our ongoing examination of Blackwood's." – Charles Snodgrass, Nineteenth-Century Contexts, 36.2 (2014), 208-10.
---
"Overall, the collection shows the innovativeness of Blackwood's and the achievement of an able man together with a tight group of authors who shared his vision, ambition, and goals in a highly competitive environment. Above all, the essays highlight that Blackwood's offered a platform for lively dialogue between its own authors and those of rival periodicals. With its cross-references, this collection is a platform for similar dialogues and conversations among twenty-first-century scholars on this fascinating, influential, and highly innovative nineteenth-century periodical." – Isabel Seidel, Victorian Periodicals Review, 46.4 (2013), 566-569.
---